Elizabeth Henson
Named the Best Lawyers' 2016 Denver Family Law Mediation "Lawyer of the Year"
Selected as a Colorado Super Lawyer 2009 – 2022
Family Law Mediation
Elizabeth ("Beth") Henson is an attorney who specializes in divorce and other family law mediation.  Beth mediates all family-law matters, including:
Divorce

Parental Responsibilities
Division of property and debt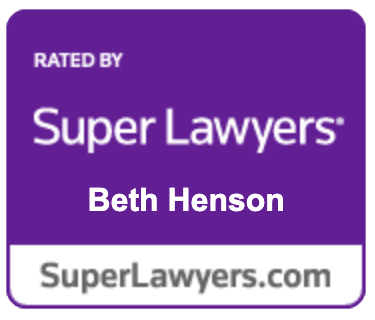 My mediation practice is focused on helping parties move through a difficult process, combining dignity, grace, and self-determination with education, information and experienced guidance.
I believe that you are far better suited than the court system to decide your own future and the future of your children. Sometimes, though, people need some direction getting to resolution – that's where mediation comes in.
Divorce Mediator for Colorado
I'm confident that I'm one of the best mediation values in Colorado Family Law. I offer the lowest hourly rate for comparable experience and expertise for self-represented parties.
A "self-represented party" is someone entering the court system without having an attorney officially representing him/her. A self-represented party can still consult with an attorney or use an attorney in an advisory capacity (often called "unbundled representation" or "unbundled legal service").